BEST MANUFACTURER OF APPLIANCES IN 2022

A question comes back every day during our service calls for a repair or an installation of appliances;
"What is the best brand of home appliances in 2022? "
At first glance, it is difficult to answer this question without admitting first that all brands are just not as good as they were before.  Now, the consumer who is aware of this fact, still expects an honest and impartial recommendation.  Thus, to be able to make a detailed assessment, a more in-depth analysis is needed.
In this article, we will show you the importance of some essential points to consider when buying a new home appliance. We will evaluate the various elements that served to support this conclusion and hope it will help you make a more informed decision.
At your service for more than 20 years!
The purchase
So, you just bought a brand new 4-door stainless steel fridge or a beautiful red washer with a glass door as big as a giant aquarium. It is the envy of all your friends and a considerable investment. Have you ever considered, before purchasing your prize possession, the issues that might develop in the future and the different factors such as;  What will happen if my device breaks in a few years? Are there repair companies for this brand in my area? Are there enough repairmen or will I have to wait weeks for a service? Are there local suppliers of spare parts for this brand? Will the parts be affordable or overpriced?
Most of our customers tell us that they have consulted 3 sources in order to make a decision on which brand to choose: a popular publication of the type: List of the best washing machine, customer's online reviews and obviously the good old appliance salesman. Here we will not name any company or individual associated with these 3 sources, since our goal is not to discredit but rather voice our personal opinion as appliance technicians.
Let's analyze each of these 3 sources:
⦁ The popular magazine:
You should know that most of these publications do not test or repair the household appliances they recommend as the best. They merely analyze the cost of the appliance and establish a quality-price ratio based on the different functions and features offered by the model in question.
⦁ Online comments:
When it comes to relying on consumer experiences, online reviews can be quite demoralizing. Indeed, many people are very critical of all the brands and models on the market. Therefore, no manufacturer is able to claim having only good reviews online , given the rapid obsolescence of their products.
The appliance salesman:
Some are still quite qualified and knowledgeable. However, according to our findings, most are unaware of the technological weaknesses of the appliances they're selling.  Furthermore, it is hard to understand the double talk of a salesman praising the quality of a brand, who suddenly, after convincing us to buy it, says that it is now essential to take an extended warranty.
   
One flat rate, that's it… period!
THE RESULTS
The manufacturer Whirlpool

comes in 1st position and thus remains the one that our team recommends as the best choice in

2022. Manufacturers

GE and Electrolux are also recommended, located in 2nd and 3rd position. The Bosch brand comes in 4th position with a passing score of 60%, so not really favored. And the manufacturers Samsung and LG fail in several ways and are therefore brands to avoid.
Please note: Our analysis cannot be based on the brands currently available in stores. No one, not even the manufacturer, has enough data at the moment to make a concrete analysis. We thus base our analysis on appliances that are at least 2 years old. Also, the different manufacturers shown in this grid are the makers of several different brands regrouped under the same banner. To find out which manufacturer is the maker of your brand, consult our article: Who makes what?
OUR SCORES BY MANUFACTURER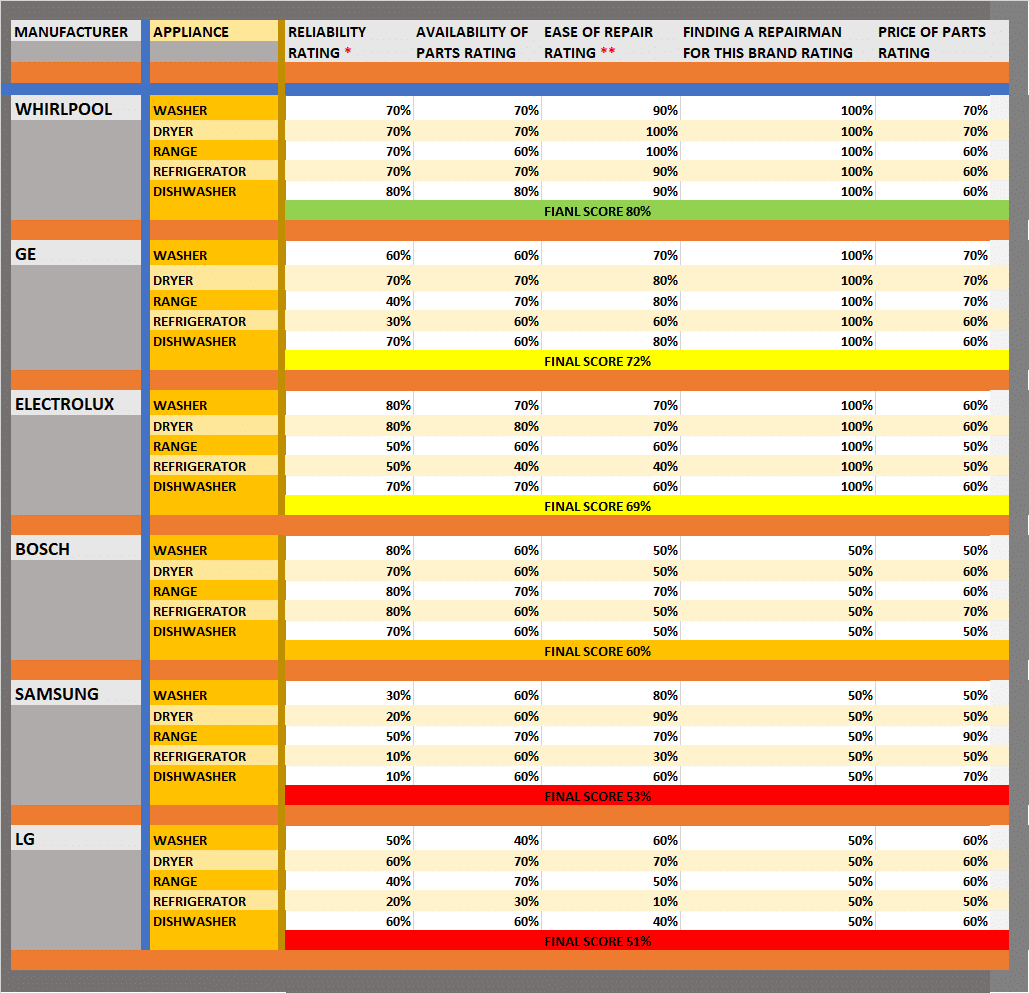 * The reliability of the appliance is calculated by the frequency of service calls received for this brand and the recurrence of the same issues.
** The ease of repair is calculated by the level of difficulty of the diagnosis, the complexity of disassembling and especially the technical support provided by the manufacturer to ensure the quality of the service.
For finding a repairman rating, the score is 100 for a brand that almost all companies repair or 50 for a brand of which only a few offer a repair service.
  All our vehicles are now 100% electric !
The extended warranty
The $1,000,000 question; Should you take an extended warranty? Indeed, given the poor quality of modern appliances, it seems that this goes without saying. But there's a catch. First, appliances are backed by a basic 1-year warranty from the date of purchase. This is an industry standard.
Second, most extended warranties offer an additional 5-year coverage. On the other hand, this "additional" warranty is misleading since it is (almost always) piled on top of the manufacturer's basic warranty. So, instead of covering the device for 6 years, it only protects you for a total of 5 years, as it starts immediately at the time of purchase.
In conclusion
So, extended warranty… Yes or no?
The answer is simple. Ask yourself, "Am I lucky? Because, basically it only relies on your good fortune. Sometimes, no matter what you do, you'll always feel like you haven't made the right decision.
If you do not take it, your precious investment risks a major breakage that will make you spend double the money, and if you get the warranty and never have to use it, you paid twice the purchasing price.
Also take into consideration, that a household appliance in 2022, all models and brands combined, have an approximate lifespan of 5 to 8 years. So, this 5-year coverage will hardly help you if the breakage occurs during year 6, 7 or 8. Something to chew on…
Contact a member of our team of expert technicians for a repair or installation of appliances on the South Shore and visit our blog to consult the various articles guiding you to the multiple solutions for your appliances.
We are recommended by CAA HABITATION, certified by EMPLOI QC and members of the CTEQ.
SERVA PLUS (450) 486-3800 (South Shore)