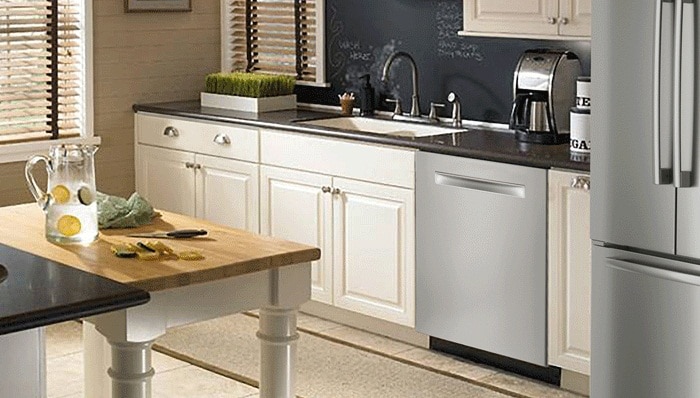 DISHWASHER REPAIR IN ST-BASILE LE-GRAND
Service click here :→ (450)486-3800

Are you looking for a repairman for a dishwasher repair or installation in St-Basile Le Grand. Fast, courteous and efficient service throughout the South Shore.
Our team of technicians travel throughout the St-Basile-Le-Grand region to repair and install dishwashers. Whether for a clogged pump, a noisy motor, unsatisfactory washing results or for the installation of your device, we can accommodate you quickly.
  At your service for over 20 years !
To begin with
One of the most common complaints for a dishwasher is for a washability problem. If the dishes are improperly arranged in the dishwasher, the machine will not be efficient. The dishwasher uses water jets to clean dishes and cutlery. If the water cannot reach all the surfaces of the items placed in the dishwasher, the food will lodge in the crevices. Make sure all items are far apart, without fitting into each other or leaning against each other.
Check that the sprinkler arms can rotate freely in the tank and that no long plate or utensils block them. Some dishwashers allow you to remove the arms to clear blocked nozzles. If the manufacturer advises, you can extract large dirt particles from the sprinkler arms using a thin, sharp object, such as a toothpick.
  One flat rate, that's it…period !
Also
A noisy dishwasher is usually due to a faulty or blocked drain pump. Checking the sink drain can solve the problem. However, it's also important to note what type of noise your dishwasher makes.
If it is a squeaking noise, it may be that something is stuck in the dishwasher's recirculation pump, if it is a dry noise, the motor bearing of the washing pump may be damaged.
The simplest dishwasher problem is that your dishes are clean, but they are covered with chalky white stains. This phenomenon is more evident on transparent glasses, but water stains or turbidity can go so far as to give your normal dishes a cloudy look and a chalk feeling when you touch them. The rinse agent dispenser may be at fault.
  All our vehicles are now 100% electric !
In conclusion
Our fixed-price labor fees include travel, diagnostics, and unlimited time labor for an experience with no surprises or hidden fees. Wherever you are in the St-Basile-Le-Grand area, we offer a dishwasher repair or installation service, in the morning, afternoon, evening and even on weekends, at no additional cost.
Do not wait any longer, if you are on the South Shore, contact us now and we will be able to schedule you with a flexible time slot and a 30-minute notice allowing you to travel for the technician's visit. Please also visit our blog to consult the different articles guiding you to the multiple solutions for your appliances.
We are recommended by CAA HABITATION, certified by EMPLOI QC and members of the CTEQ.
SERVA PLUS (450) 486-3800 (South Shore)